Yokohama with a population of 3.7 million (as of 2015) lies south west of Tokyo. When Japan opened its doors to the world in the middle of the 19th Century after nearly three centuries of seclusion, Yokohama became one of the ports that initially welcomed foreign vessels. The history of Yokohama began thereafter.   

    An ukiyo-e depicting the ceremony of signing the Japan-US Treaty of Peace
    and Amity at Yokohama.
Let's look at the background to this development more closely. Witnessing the imperialistic expansion of the European powers in Asia, the US showed a keen interest in East Asia. The Americans were seeking sea ports opposite their west coast counterparts to replenish their vessels with water, food and wood. With these aims, Commodore Mathew Perry of the US Navy led a fleet of war ships including steam engine vessels to Japan. Perry managed to conclude a treaty, known as the Japan-US Treaty of Peace and Amity, with the Tokugawa Shogunate in 1854 at a small village called Yokohama. As a result, a formal diplomatic relationship was established and two ports were opened: Shimoda in Shizuoka prefecture and Hakodate on the northern island of Hokkaido.
A commerce pact followed. The Treaty of Amity and Commerce between Japan and the US, was signed in 1858, by which additional ports including Yokohama were opened. So, foreign merchants started coming to Yokohama. How was a merchant's life in Japan? A designated area was allocated for foreigners. Within this area (now called "Kannai"), they could set up their own office and a warehouse if needed and carry out business with Japanese merchants; they would live in a house located on hill tops (now called "Yamate" area).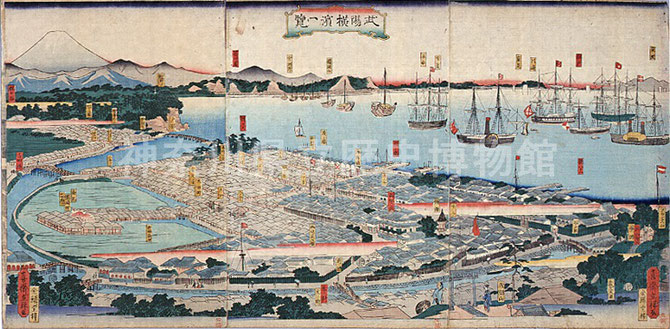 An ukiyo-e depicts a burgeoning Yokohama.
What goods were traded initially? From Japan, mostly raw silk, tea, rice, sea food among others. To Japan, woolen clothes, cotton clothes, machinery and so on. Under the treaty of 1858 and subsequent addenda, the import tax and export tax were mandatorily set at 5 % in favor of foreign merchants and Japan did not have control over them. Moreover, foreigners were not subject to Japanese law. Did you know that it took around half a century to correct these unequal terms: in 1894 for the latter and 1911 for the customs tax?
In 1872, Japan's first railway was constructed between Tokyo (actually Shinbashi) and Yokohama. In time, the port of Yokohama flourished as Japan's industrial base was gradually being developed. The textile industry managed to take off, therefore importing cotton thread and exporting cotton clothes; followed by importing raw materials for producing industrial goods. A heavy industrial complex was built along the sea shore in Yokohama.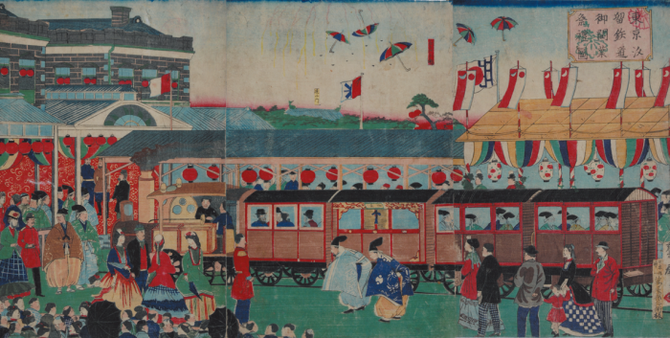 From a different perspective, it must be mentioned that Yokohama has experienced complete obliteration twice: The magnitude 7.29-8.1 Great Kanto earthquake in 1923 and the carpet bombing by the US bombers during World War II in 1945.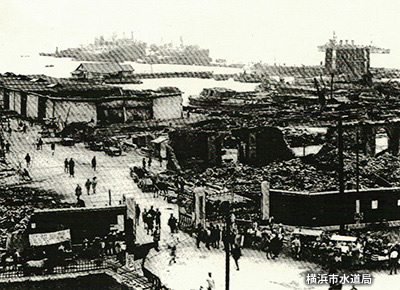 Yokohama was closer to the epicenter, therefore it suffered
                      more damage than Tokyo.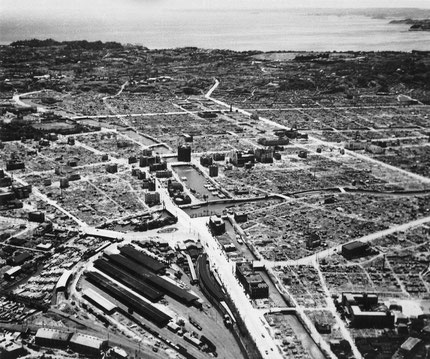 The photo shows Sakuragicho station in the foreground and the sea in 
      the  background after the bombing.
After the war, Yokohama saw a full-swing reconstruction coupled with an economic development of great magnitude. There were however negative sides to this: environmental pollution, traffic congestion, sprawling housing, shops and factories among others. To tackle these problems, Asukata Kazuo, mayor of Yokohama (1963 to 1978) initiated massive projects, which were effectively pursued by his successors. Incidentally, Asuka being a member of the Japan Socialist Party (then) became its chairman after he resigned as Yokohama's mayor.    
There were altogether six projects. One was the Minato-Mirai project, which was to create a new city center around Yokohama port by transferring and relocating a ship building complex, railway stock yards and freight train lines. The photo shows Minato-Mirai today (actually the development still goes on).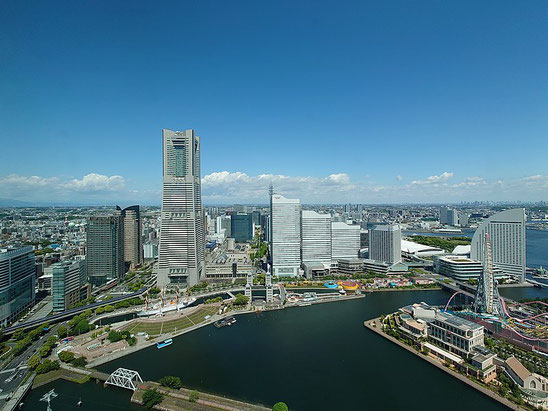 The second project was building a land fill in the Kanazawa area, southern Yokohama for the purpose of accommodating relocated factories and small to medium enterprises; the reclamation itself was completed in 1977.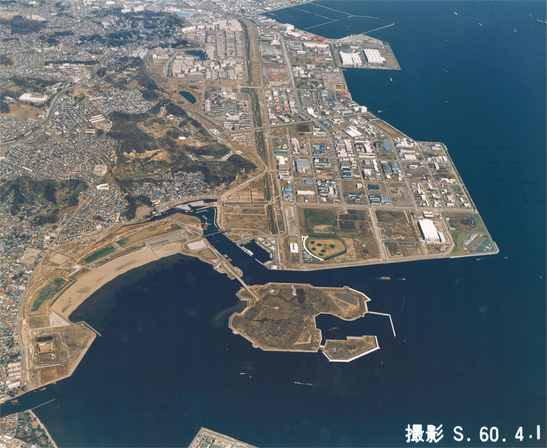 The third was the development of a new town called "Kohoku new town"
in northern Yokohama to cope with sprawling housing; the first housing facilities were completed in 1980. Kohoku new town is basically centered around the Center Minami (south) and the Center Kita (north) areas. 
                                                 Center Minami area
The fourth was the construction of subway lines; the first line, called "Blue line", linking Yokohama's north and south stretching 40 km was completed in 1993. The second line, the 13 km Green line in northern Yokohama, was completed in 2008. Both lines run through Kohoku new town. 
A Blue line train coming to                         A Green line train coming to            Center Kita station                                      Center Minami station
The fifth project was building express ways; the one connecting Yokohama and Haneda airport was completed in 1968. The sixth was constructing a bridge called "Yokohama Bay Bridge" in order to connect Yokohama port and Tokyo directly. It was completed in 1989.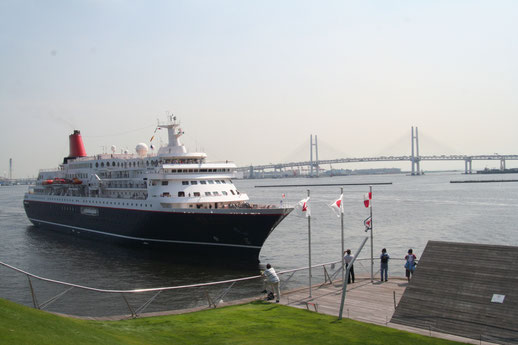 This photo was taken from the international passenger terminal
       showing Yokohama Bay Bridge in the background 
The basis of Yokohama, the second largest city in Japan as we know today owes much to the feat of these projects.